March 2019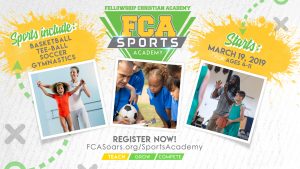 Set your aspiring athlete up for success with The FCA Sports Academy! March 19 - April 25, 2019 Tuesdays/Thursdays, 6 - 8 pm FCA Gyms A, B, C Two payments…
Find out more »
EC Youth Room A If you're an educator called to lead and impact students for Christ, then Fellowship Christian Academy is the place for you! Early childhood, elementary, high school…
Find out more »
Basketball Leagues are back! Registration for youth teams (6U - 12U) and individual adult players (21+) is now open. Visit OCBFChurch.org/Basketball to sign up today!
Find out more »
Celebrate Youth Art Month with Creative Tyme Ministry! Actors, poets, musicians, mimes, dancers, rappers, vocalists, photographers, spoken word artists and other creative - ages 12-18 - are encouraged to come…
Find out more »
April 2019
EC Youth Chapel Please come to a spring demo cooking class with our featured chef, Chef Alanis.
Find out more »
School: University of Oklahoma Departure at 4 am | Return at 4 pm Registration Dates: March 17 - April 3
Find out more »
+ Export Events