Discipling the Church to Impact the World.
Everything about us—from our doctrine, philosophy, programs, and decisions—has its origin in God's Word. The OCBF brand reflects the importance of His Word as the center of everything we do as a church. The Word of God is the basis for living out our mission of Discipling the Church to Impact the World.
Our brands' key influencers are:
The Gospel of Jesus Christ and the supreme authority of the Holy Scriptures
The Kingdom Agenda-the comprehensive rule of God over every area of life
Teaching the uncompromised Word of God
Development of disciples of Christ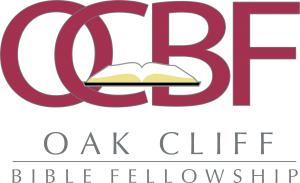 Primary Colors
The primary color palette consists of OCBF burgundy, the official color of OCBF, supported by OCBF gray and highlighted with OCBF gold.
On Coated Applications
Burgundy – PANTONE 208C
Gray – PANTONE 424C
Gold – PANTONE 459C
On Uncoated Applications
Burgundy – PANTONE 208U
Gray – PANTONE 424U
Gold – PANTONE 459U
*NOTE: These logo elements, arranged in a fixed relationship, may not be altered in any way. For information about how to use the brand correctly, please contact the Ministry Advancement Department at 214-672-9100 ext. 9149.